Hello and happy new year!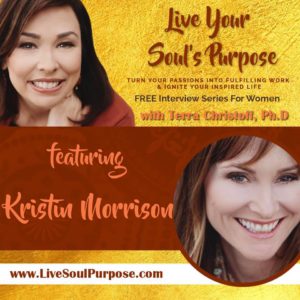 How's your best year yet going so far?
And…are you wanting to make your work and life even more soulful in 2017?
I was recently interviewed for an upcoming telesummit called "Live Your Soul's Purpose" and it's going to be released soon and you can watch it by clicking the link below.
In the interview I share how the power of intention helped me find my wonderful husband-to-be and how letting go and focusing on activities other than work can sometimes be the way to find one's calling (that's how I found mine years ago in the business world that I love so much).
You can sign up now to get all the interviews delivered to your email inbox (my interview airs on January 17, 2017). Here's to all of us creating soulful work and a happy life in 2017!
Sign up here: www.LiveSoulPurpose.com/KristinMorrison